ABOUT FRIENDS of COLUMBUS PARK
IN MEMORY of BOBBY LEE ROBERT LEE ALBERT SUN
WELCOME the CHINATOWN COLUMBUS PARK MULAN ACTOR'S ASSN.
SPORTS for KIDS in NY CHINATOWN
BASKETBALL CLINICS for KIDS at PS 124
COLUMBUS PARK BALL FIELD VICTORY
COLUMBUS PARK PAVILION RESTORATION PROJECT IS NOW COMPLETE?
SPECIAL THANKS to OUR CONTRIBUTORS
JACQUELYNN YOUNG SCHOLARSHIP for HIGH SCHOOL SENIORS
WHY KIDS?OUR KIDS, OUR FUTURE
Friends of Columbus Park is a not for profit 501(c)3 organization based in NY Chinatown, Manhattan. We are one of the few organizations that recruit organizational and individual membership based on support of our mission and goals. We represent a coalition of 39 community based organizations, that include individual supporters and friends. we are all volunteers with no paid staff.
Advocating for safe & clean Columbus Park is just the first of our missions. In 2002, Columbus park because of its location & status in our community needed to be addressed because of the deplorable decaying conditions of the Pavilion, ball field and park facilities.
In 2004, money was raised to restore the Columbus Park Pavilion. In 2005, thanks to Joseph Temeczko's ($1.1 Million) donation the Columbus Park ball-field has been upgraded with basketball, volleyball courts and a synthetic grass field.
These projects are just the first steps in revitalizing Columbus Park.
Parks in NY Chinatown have been ignored by the City of NY for a very long time. We cannot rely on the City of NY, nor our elected officials to maintain our open spaces.
Budget cuts will continue to affect our parks. In most cases, money for parks will go to the richer neighborhoods of NYC and as always inner city parks will be neglected.
It is up to you to get involved and help make a difference in the quality of life here in NY Chinatown starting with our parks & open spaces.
HOW IT ALL BEGAN?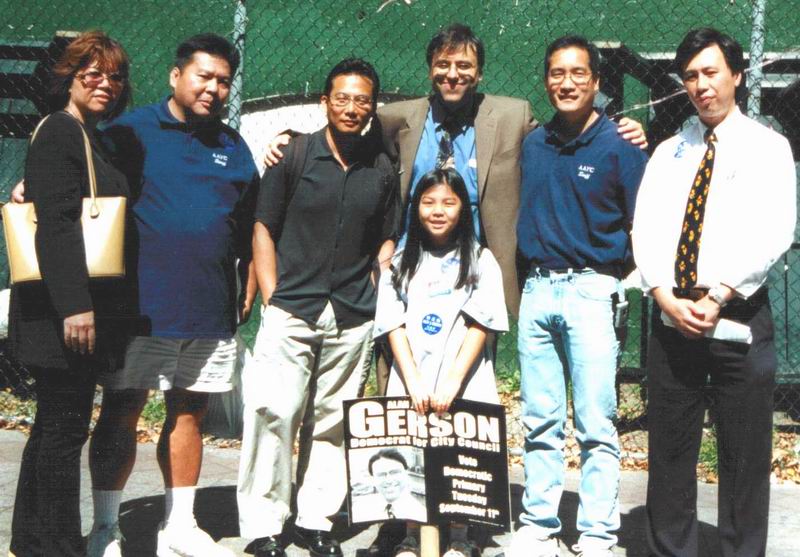 Community Groups & Councilman Elect Alan J. Gerson Hold a Press in front of the Columbus Park Pavilion
Protesting the Deplorable conditions of the Pavilion
September 5th, 2001: led by City Councilman elect Alan J. Gerson and concerned community groups. This conference was held in front of the Columbus Park Pavilion, NY Chinatown on September 5th, 2001. The conference was held to bring public awareness of the horrible conditions of the pavilion. The pavilion, neglected by the City of New York and community leaders of NY Chinatown has been closed to the general public & has become the nesting ground for many of the hundreds of pigeons in Columbus Park, NY Chinatown.
WHAT HAVE WE DONE?
May of 2002: Help organize the NY Chinatown community in support of NYC Parks & Recreation Department's proposal & eventual award of the UPARR grant ($1,000,000) for the restoration of the Columbus Park Pavilion.
May 15. 2003: Organize community to meet with Manhattan Parks Commissioner, Bill Castro & Staff to discuss changes & restoration plans for the Columbus Park Pavilion & landscaping ideas for Columbus Park in NY Chinatown.
June 2004: NYC Parks invites FoCP & other community groups to meet at the park to discuss NYC Parks plans for the renovation of the ball field. NYC Parks plans to replace the asphalt with synthetic turf (fake grass) was met with skepticism and unanswered questions. After discussions, FoCP begins a campaign against the installation of synthetic turf and for the installation of an all purpose field that can serve everyone. Petition of 3505 names & 405 Chinatown/Asian businesses sign a petition in favor of a multi-purpose turf.
October 2004: Negotiated settlement with NYC Parks is reached. This settlement included dividing the field with approximately ˝ being synthetic turf and ˝ being all purpose asphalt. The asphalt section of the field will include installation of 3 ˝ court basketball courts and 3 volleyball courts along with other promises.
***********************************************************************************************************************************************