**Message from the President **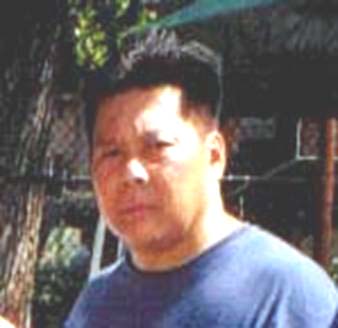 Hi Everyone,
Since 2002, Friends of Columbus Park (FoCP) has been involved in issues concerning our park.
Our primary focus has always been to advocate for a safe and clean park that can adequately serve our kids, seniors and the general public in our community. Like many community organizations we began because there was a need that needed fixing. That need focused around the Columbus Park Pavilion, which has been closed and left to decay in the park for over 30 years. During this time the only ones using the Pavilion were the hundreds of park pigeons that flew and nested in and around the Pavilion, and the neighborhood homeless that used the Pavilion at night as a homeless shelter. Occasionally, the community & visitors would use the surrounding trees and corners of the Pavilion as their public bathroom whenever they needed to go.
This prompted me to submit the Columbus Park Pavilion as one of the sorriest public sites in NYC, sending photos with a brief statement of the deplorable conditions of the Columbus Park Pavilion. To my surprise, the Pavilion was nominated into the "Hall of Shame". The Hall of Shame is run by an organization called "Projects for Public Spaces", this organization runs a public based program that allows community groups or individuals to submit deplorable public spaces for nomination into their "Hall of Shame". The Columbus Park Pavilion in NY Chinatown finally got some press.
Why was the Columbus Park Pavilion put in the Hall of Shame?
· Totally inaccessible - it's fenced off and locked.
· It has become home for the hundreds of pigeons in the area.
· Nothing goes on here - although the rest of the park has lots of activity
· It could be a thriving community place and a focal point for the park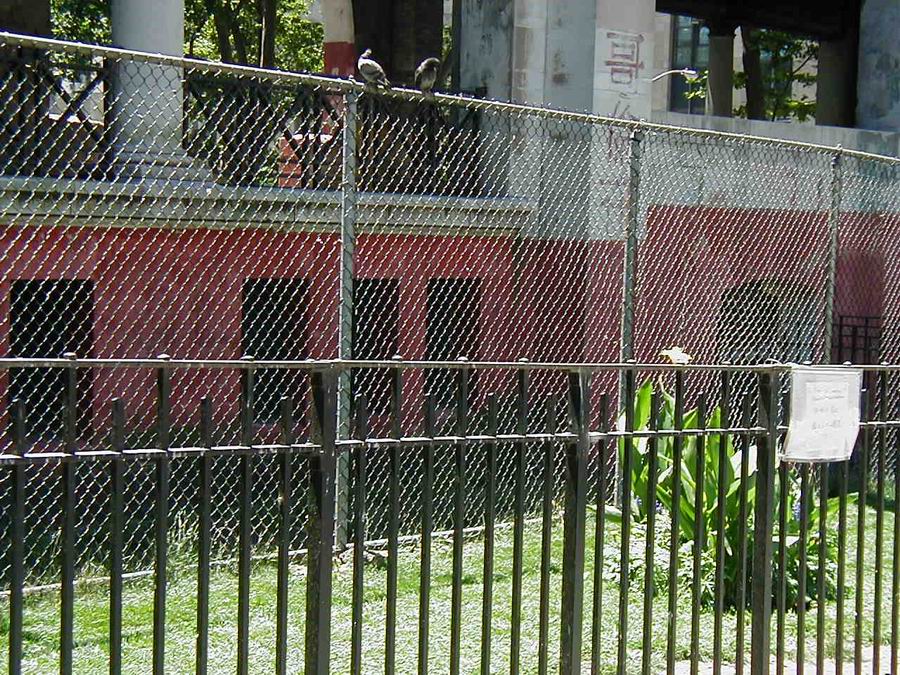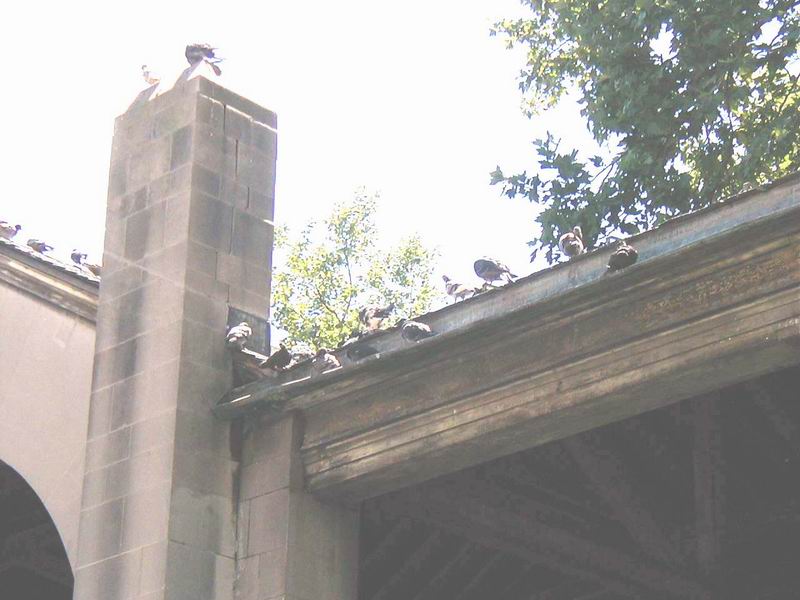 Fence around the Pavilion --------------------------------- Pigeons Perching
On Oct. 25, 2007, the Columbus Park Pavilion finally reopens.Restored to do what?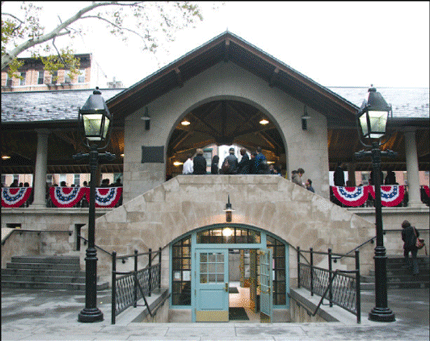 Like anything in life, nothing comes easy. The Pavilion construction is now completed, the community faces the big question, Columbus Park Pavilion is being restored to do what? Plans for use and future maintenance of the Pavilion have not yet been discussed with the community. The fact that construction plans do not include enclosing the upper loggia of the Pavilion means that the building will be open to the slow decay of the outdoor elements. It's time for our community to adopt the Pavilion as one of our community cornerstones. It's important for us to use the Pavilion for social service programs and recreation. The community needs to have a voice and we all need to get involved.
Columbus Park Victory:
In 2004-2006 money (Federal grant, elected public officials & LMDC) was raised to finally restore the Columbus Park Pavilion. Construction presently ongoing and should be completed in 2007. In 2005, Mayor Bloomberg's decision to use Joseph Temezko's ($1.1 million) donation to remodel the Columbus Park, NY Chinatown ball-field. Their plan was to replace the decaying asphalt with synthetic grass (fake grass).
All Purpose Turf vs. Synthetic (Fake) Grass:
Why should our community be limited to what we can do in Columbus Park?
FoCP supported & endorsed the mayor's decision to use the money for the re-modeling of the Columbus Park ball-field but not the decision to remodel the ball-field with fake grass. FoCP together with the Columbus Park Exercise Group (mostly seniors) began a community campaign in support of an all-purpose, no limitation field vs. the city's plan to remodel the whole field to synthetic (fake) grass.
We questioned, Why should our community be limited to what we can do in the park?
We wanted the money to be used for the installation of an all-purpose, no limitation field (similar to what was used in Seward park - asphalt with rubber paint topping) instead of the proposed synthetic grass. We realized early on that having a ball-field of synthetic grass would drastically limit what the community can do in the park (restricting use of chairs, tents, tables, stages and prohibiting roller skating, bicycle riding, volleyball, seniors exercising, martial arts, large events etc. from park use) and the question of maintenance and cleaning of the fake grass would also became a major issue.
With the help of the community we took action and organized a petition campaign (3505 signatories &405 businesses/Asian organizations signed the petition) against synthetic turf and for all multi-purpose asphalt. After compromising, we now have a ball-field that is 1/2 asphalt (designed with 3 new 1/2 court basketball courts and 3 volleyball courts) and 1/2 synthetic grass. The park right now is looking pretty.
Now that we have synthetic grass at Columbus Park, the big question concerning the grass is Safety, Maintenance and Cleaning of the fake turf. Reports from community of broken grass, dog feces, cleaning and decaying are slowly becoming major issues and this is all occurring when the turf is fairly new. We can only speculate what the future holds as the synthetic turf becomes older.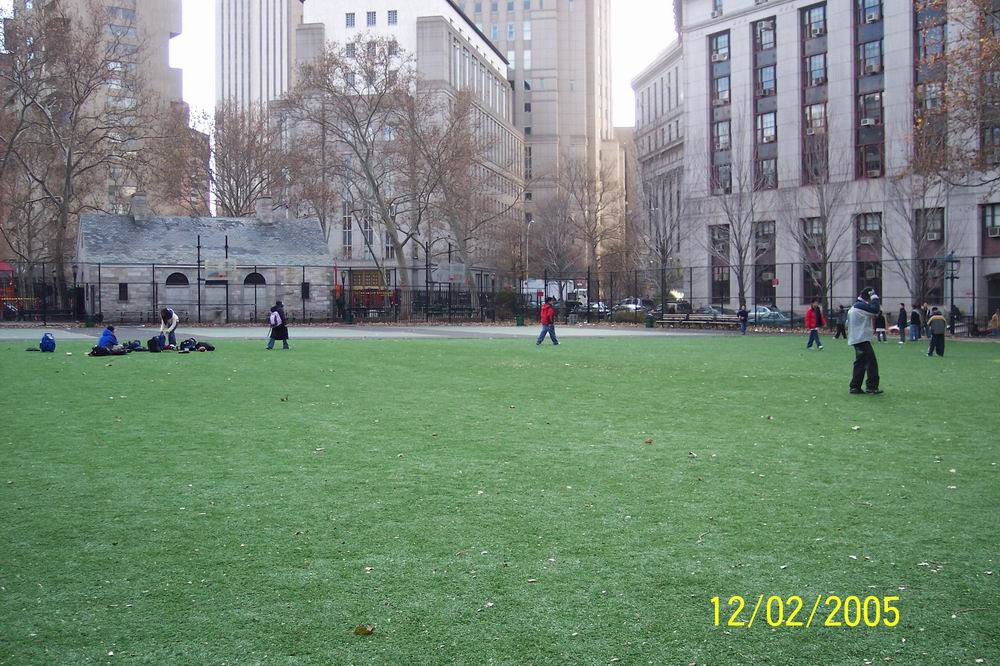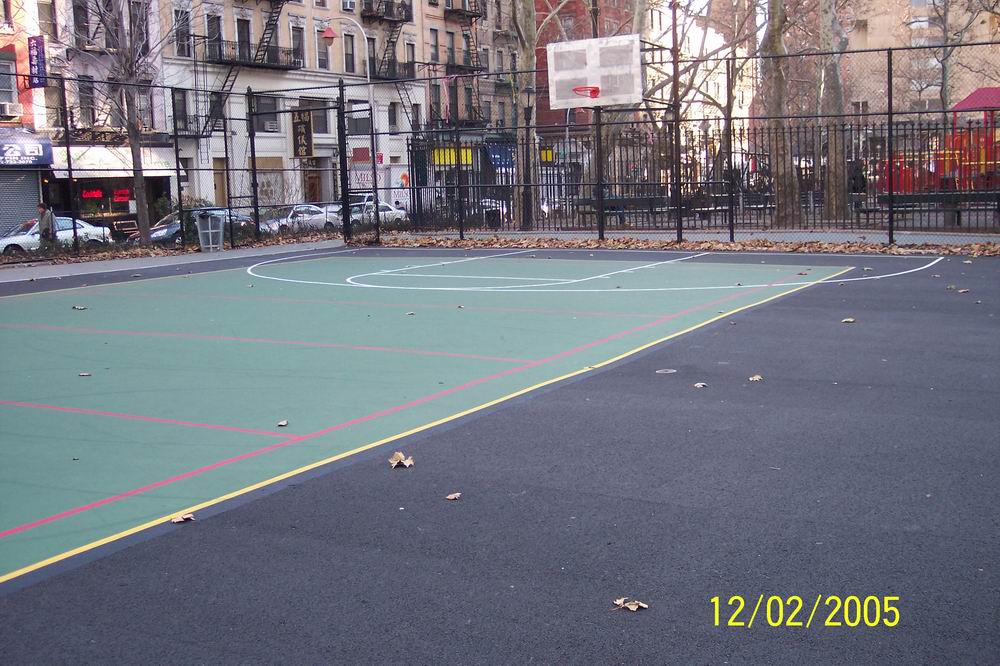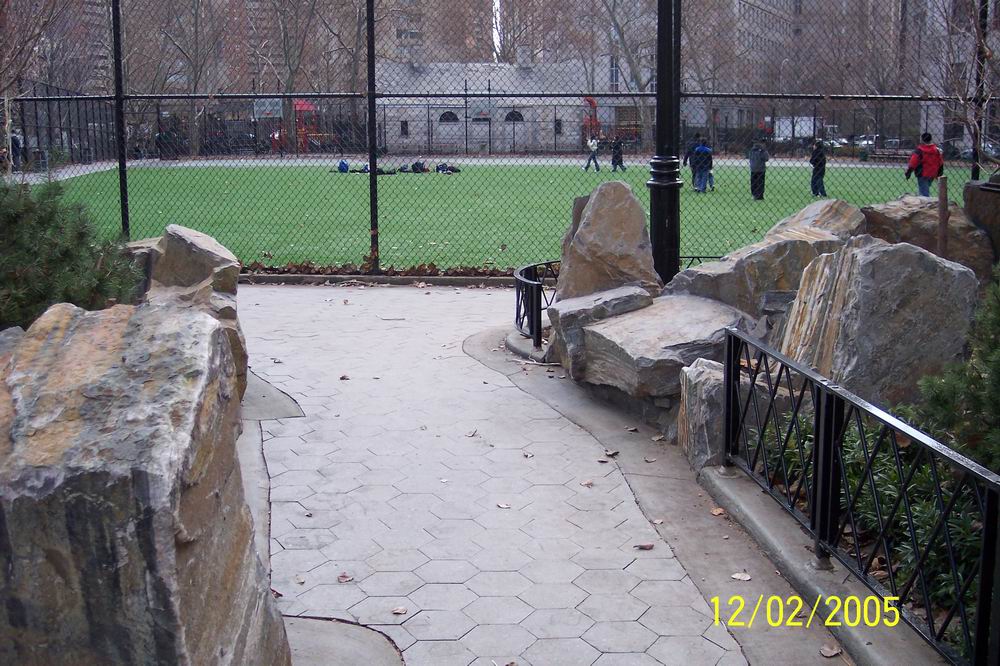 New Synthetic Turf ---------------------- New Basketball Courts --------------New Landscaping (North Side of Park)
Supporting Our Neighborhood Parks:
We all rely on a portion of our taxes to maintain and clean our parks. Recent history has shown us all not to rely on this. Money allocated for public parks are never guaranteed. Money for public parks are always tied into the City of NY budget and in most cases money will go to richer neighborhoods and not to NY Chinatown Parks. Although recently, money has fallen from the tree for Columbus Park the question always remains, Will there be future money falling from the tree to maintain Columbus Park and other Parks in NY Chinatown?
Sharing A "VISION": NY Chinatown's first small community center ???
FoCP has become a voice representing NY Chinatown concerning Columbus Park. It has taken a lot of hard work. It has always been my vision to convert the Columbus Park Pavilion to NY Chinatown's first small community center, a place which can be shared by everyone regardless of race, politics or religion. A place that we can have Town Hall Meetings, recreational & educational activity, see movies, have cultural performances, have workshops, view & discuss history etc.. We need a center that is open 7 days a week, day and evening hours.
I've always wanted our community to be strong and have a say on all issues that affect us. Our community needs to develop strong leadership that works together and communicates with each other. This is my vision for Columbus Park & NY Chinatown. So join me and others in making a difference for tomorrow's future.
Paul Gong,
Founder & President of Friends of Columbus Park
** STRONG COMMUNITIES that WORK TOGETHER can MAKE A DIFFERENCE **