ABOUT FRIENDS of COLUMBUS PARK
14TH ANNUAL SUMMER FIELD DAY for KIDS JUNE 2013
IN MEMORY of BOBBY LEE ROBERT LEE ALBERT SUN
FINANCIAL LITERACY for KIDS 2010, 2011
JACQUELYNN YOUNG SCHOLARSHIP for HIGH SCHOOL SENIORS 2013
SUMMER FIELD DAY at COLUMBUS PARK
ABOUT SPORTS for KIDS PICTURES
COLUMBUS PARK PAVILION HISTORY RESTORATION GRAND OPENING - OUR VISION
ALERT! ALERT! RATS, RATS, RATS in COLUMBUS PARK
We are now members of the CHINATOWN WORKING GROUP
COLUMBUS PARK BALL FIELD VICTORY
ABOUT COLUMBUS PARK CURRENT ISSUES
SPECIAL THANKS to OUR CONTRIBUTORS
WHY KIDS?OUR KIDS, OUR FUTURE
COLUMBUS PARK
ABOUT the PARK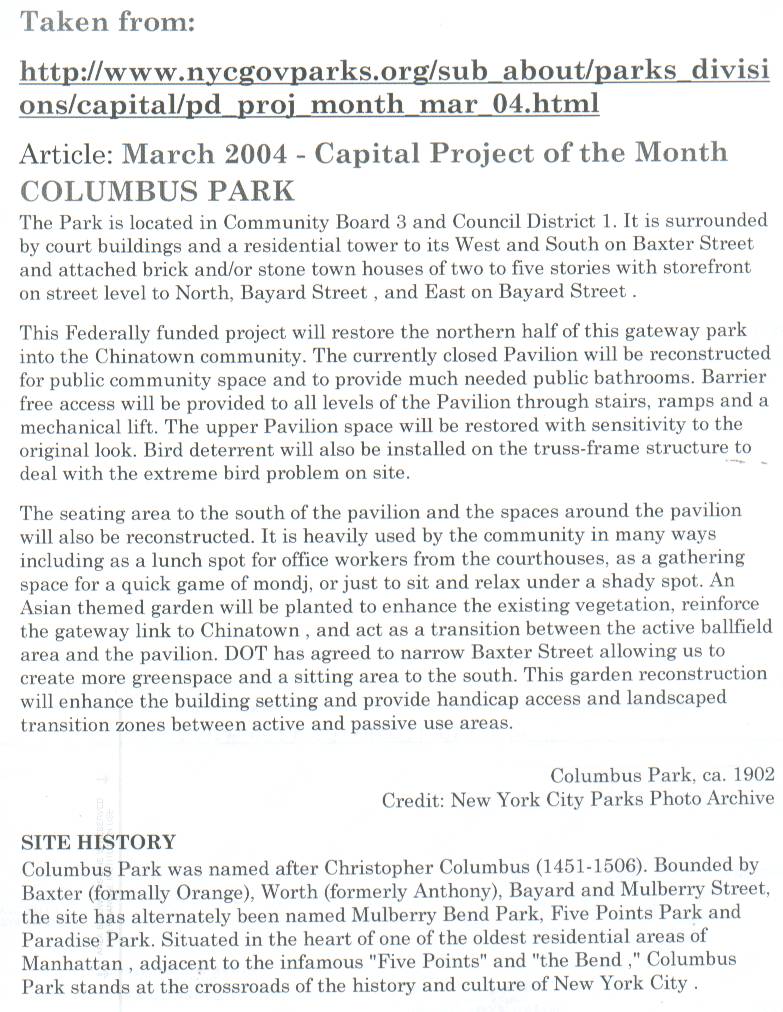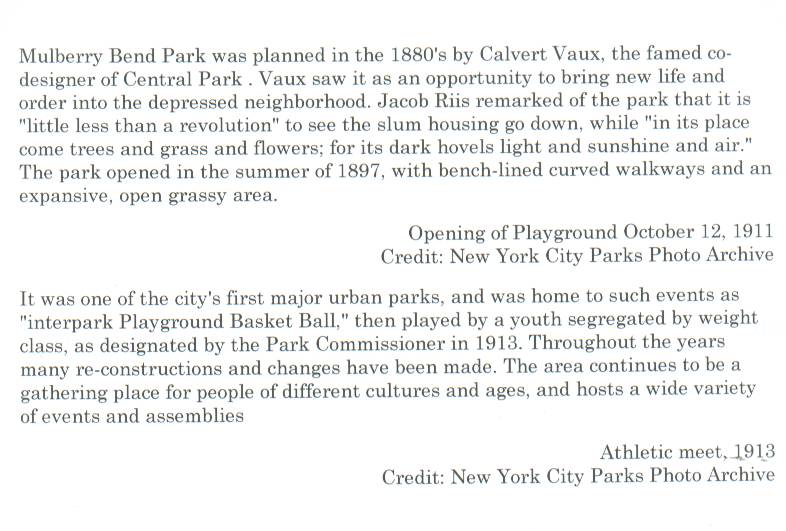 Current Issues:
Our Concerns: How is the field being cleaned of broken glass that gets imbedded in the turf? Is there a plan to cleanup the dead rats underneath the synthetic grass turf? Do we need to worry about mold growing underneath the grass, possibly causing future health problems?
Our Concerns: Current Park plans for the renovation do not include
enclosing the upper loggia of the building. Weather, pigeons and other
open access conditions will lead to a rapid deterioration of this facility.
Future maintenance and use of this facility are also issues that need to be
discussed or clarified.
We propose enclosing the upper floor of the Pavilion with removable glass windows or partitions – enabling heating and air conditioning of the upper loggia area. We also recommend setting up a Parks and community management team for the Pavilion to organize and facilitate youth and other community group use of the Pavilion facility and keeping it open for use during the daytime, evening and weekend hours.
Our Concerns: Park security plans and park hours should be discussed with community members.
Our Concerns: The rat situation is getting increasingly worse in the park. Rats are brazenly running through the North side of the park and hiding in the Pavilion and other areas. Is there a plan to control the rat situation?
Our Concerns: The 3 volleyball courts are laid out (lines) on the asphalt ready for play but where are the nets and poles? What are the future plans for holding national and local volleyball tournaments at Columbus Park?
Our Concerns: The three basketball courts laid out on the asphalt portion of the ball field are incomplete. The out of bounds lines have not been drawn in. The asphalt areas around the courts have not been painted. And, there is no rubber paint coating (required to protect the new asphalt court).
Our Concerns: Many Chinese-speaking NY Chinatown residents and visitors cannot read the park signs. Having all signs bi-lingual is necessary for park safety, security and enjoyment.